Kohen Olischefski 'very optimistic' DU Pioneers, NCAA will play this season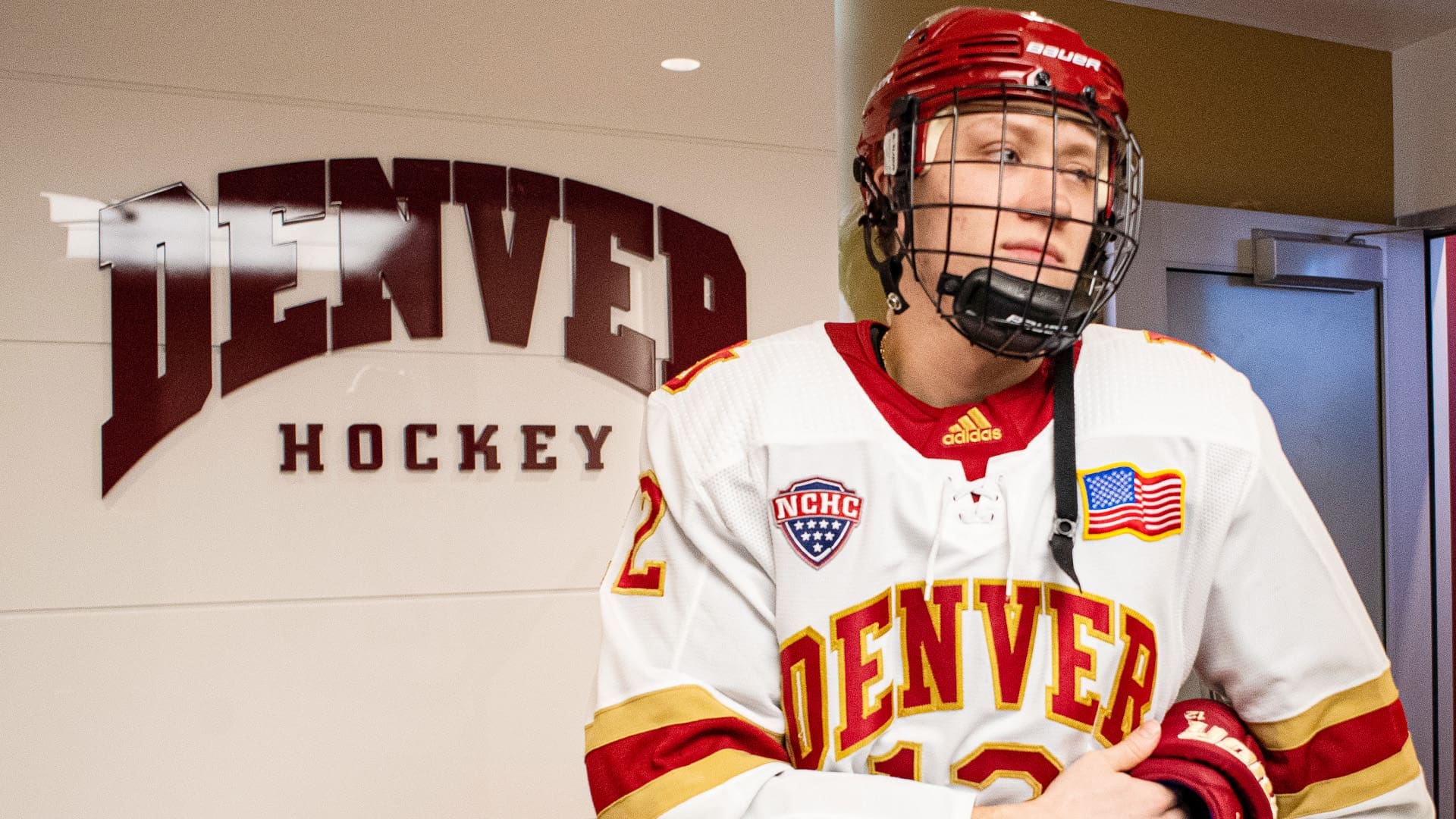 Like it has been for most everyone, it's been a pretty unique past few months for DU Pioneers forward Kohen Olischefski.
The incoming University of Denver senior was having himself a year before the NCAA season was cancelled back in March. Olischefski had notched nine goals, 11 assists and 20 points — all career highs —  as he and his No. 6-ranked Pioneers appeared poised for yet another deep NCAA tournament run. 
Of course, DU would never end up getting that opportunity due to the pandemic-lost season.
Also lost were seniors and assistant captains Tyson McLellan and Michael Davies, who both graduated from the university this past summer. And then in April, DU captain Ian Mitchell decided to forgo his senior season at Denver to sign his entry-level contract and turn pro with the Chicago Blackhawks. 
Not one month after all that, Olischefski found out on a Zoom meeting with the Pioneers staff and the team's senior class that he would be the program's new captain heading into the 2020-21 season. 
So in just a matter of one whirlwind of a month, Denver had lost its season, all three captains and a chance at claiming the program's ninth national championship. What it did gain, however, is a new perspective and fresh leadership, now led by the 22-year-old Olischefski. 
Just as the recently-appointed captain, along with the rest of the team, began arriving back on campus after serving their respective two-week quarantines, on Sept. 10, the NCAA announced conference-wide delays to the season. It presents yet another bump in the road of what's so far been a strange 2020, but for Olischefski and the DU Pioneers, there's confidence the season will get up and running. Eventually.
"I do feel good (about it). I think the leadership in our league and the teams involved, I think everyone wants to play and it's pretty apparent that that's a priority and we're willing to do anything to make it happen," Olischefski told Colorado Hockey Now. "Our commissioner of the NCHC has been very active, reaching out to us and keeping us in the loop. DC (head coach David Carle) and the rest of our staff has been very clear that it's a goal as a conference."
School starts back up on Monday and the hope is they'll be back in the gym and on the ice this week. Due to COVID-19 restrictions, the team will be forced to practice in three separate, smaller groups from here on out.
"We're hoping to get in the gym and on the ice on Monday when school starts," Olischefski said. "It's been a long time coming so we're all pretty excited for Monday, hopefully everything goes well."
Coach Carle recently held virtual one-on-one meetings with each of his players to outline what the start of the season might look like and detailing their plan of action.
"Those meetings were about goal-setting and what we're looking for," Olischefski said. "We were just talking about how we want to best handle this time that we're going to have as far as development goes, what we want to stress, what we want to work on, what areas we want to really focus on. Just kind of bouncing ideas off each other and trying to figure out the best way to go about this delayed start with the small groups we'll be practicing in. Just trying to set ourselves up to be in the best position possible when we actually do start."
The season was slated to start on Oct. 3, but with the announcement that the NCAA would delay all start dates, conference officials have been told the 2020-21 season won't start until at least Nov. 20. The belief, though, is the season should resume right around that November date, barring any COVID-19-related setbacks.
"I'm very optimistic about it," Olischefski said of having a season this year. "It's just a matter of when it will start and how it will look. I still think we're going to be playing hockey."
When the season might begin or what it might all look like, or whether or not fans will be permitted at Magness Arena is all up in the air. However, none of that changes DU's goals heading into what is sure to be a unique season. 
Living in a pandemic-gripped world, losing some key pieces of the team to graduation and the pro ranks and facing all of the uncertainty that's so far been tossed their way, despite all this, Olischefski is confident this DU Pioneers team has what it takes to claim the program's NCAA record-tying ninth national championship.
"Absolutely," he said. "No question."