Avalanche Claim Goaltender; Tufte Clears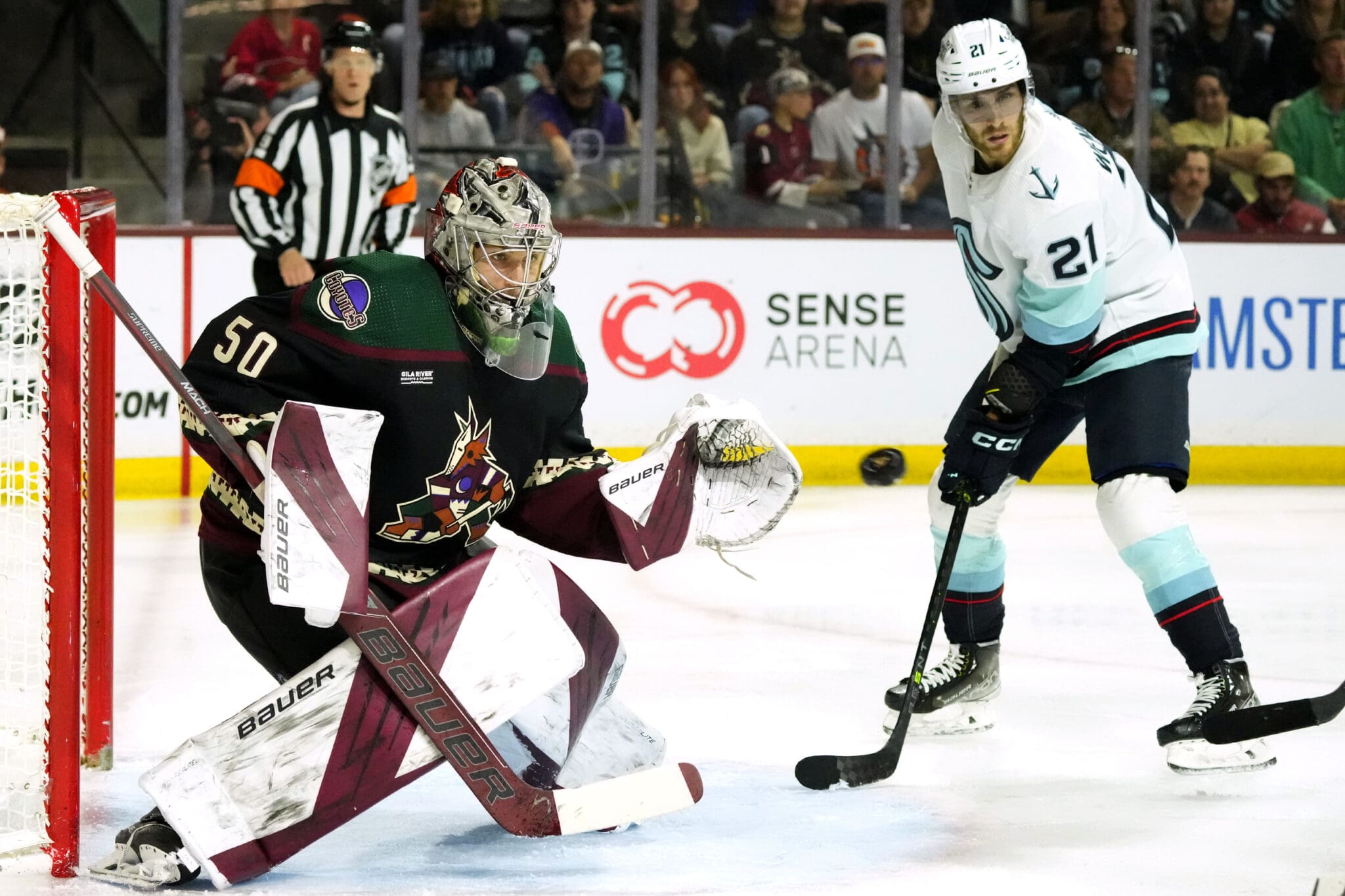 The Colorado Avalanche have made a move to pick up a goaltender to start the season.
Ivan Prosvetov, a 24 year old goaltender from Russia, was claimed off waivers by the Avalanche on Monday afternoon from the Arizona Coyotes. His NHL experience is limited, with just 11 career starts, and two relief appearances. In his 13 career games, he's posted a save percentage of .871. Not exactly anything to write home about, but there's plenty of reason to trust Jussi Parkkila when it comes to evaluating goaltenders.
In addition to claiming Prosvetov, the organization received good news, as Riley Tufte cleared waivers. It's unknown if they'll send him to the Colorado Eagles at this point, and the team has until 3 PM MST to be cap compliant with a final roster.
Justus Annunen, who had a very strong preseason, appears AHL bound, although the Finnish goaltender had not received word after practice about what the plan was. Unlike Prosvetov, Annunen would not have to clear waivers if he was sent down.
By claiming Prosvetov, the Avalanche improve their depth in net. With Pavel Francouz missing in action with no return date in sight, goaltending depth was a question. Seeing as how they claimed him on waivers, it would appear likely Prosvetov will start the season as the backup goalie, but nothing is set in stone. The question will be – is Prosvetov a placeholder, or will he be here all season?
Stay tuned to CHN later today, as the roster will be finalized this afternoon. In the meantime, here's the information from the press release the Avalanche sent out.
The Colorado Avalanche Hockey Club announced today that the team has claimed goaltender Ivan Prosvetov on waivers from the Arizona Coyotes.
Prosvetov, 24, posted a 4-3-0 record with a 3.98 goals against average and a .880 save percentage in seven games with the Coyotes in 2022-23. He also compiled a 16-13-4 record with a 3.06 goals against average, a .900 save percentage and one shutout over 35 appearances with the AHL's Tucson Roadrunners last season, leading the team's netminders in wins, goals against average and save percentage.
The 6-foot-5, 193-pound goaltender made his 2022-23 season debut with the Coyotes on March 9 vs. Nashville and earned his first career NHL win, stopping 39-of-40 shots in the process. He went on to win each of his next two starts with Arizona, posting a 3-0-0 record with a 1.67 goals against average and a .952 save percentage over his first three NHL games last season.
The Moscow, Russia, native enters 2023-24 with a 4-6-1 career record with a 4.07 goals against average and an .871 save percentage over 13 NHL games, all with the Coyotes. He's also registered a 54-54-11 record with a 3.30 goals against average, a .895 save percentage and four shutouts in 125 career regular-season AHL games. The netminder has also suited up in four Calder Cup Playoff contests.
Prosvetov made his NHL debut on March 31, 2021 at Ball Arena against the Avalanche.
Prior to turning pro, Prosvetov played for the OHL's Saginaw Spirit in 2018-19 where he tallied a 36-11-3 record with a 2.94 goals against average, .910 save percentage and four shutouts and was named to the OHL's Third All-Star Team. He also competed for the USHL's Youngstown Phantoms in 2017-18 and the NAHL's Minnesota Magicians in 2016-17.
Prosvetov was originally drafted by Arizona in the fourth round (114th overall) in the 2018 NHL Draft.