Another win, but Landeskog (lower body) prognosis another worry for Avalanche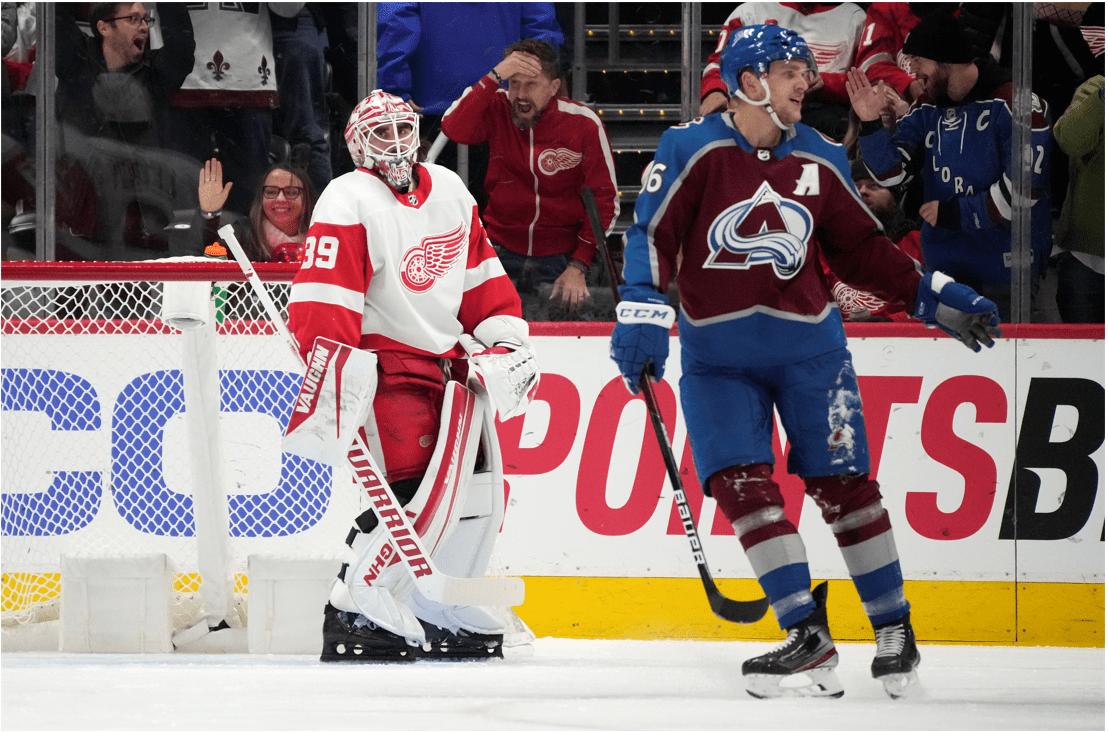 UPDATE: Gabriel Landeskog did not take part in the Avalanche's Saturday practice and coach Jared Bednar said he had no update on his captain's injury and prognonis. He indicated he would know more Sunday.  
The goals and wins keep coming for the Avalanche.
But so do the injuries.
Their 7-3 rout of the Red Wings Friday night at Ball Arena marked the third straight game they'd piled up 7 goals, and they're 11-2-1 in their last 14 starts.
It's as if Brandon McManus always tacks on the seventh goal.
But after The Who's "Baba O'Riley" heralded the Avalanche's return for the third period, Gabriel Landeskog was nowhere to be seen.
After the game, Avalanche coach Jared Bednar confirmed Landeskog had suffered a lower body injury in the second period. He logged 12:03 of ice time before he was done for the night.
"I don't have a timeline on him yet," Bednar added of the Avalanche captain. "We'll find out more (Saturday) at some point."
The Avalanche already was without, among others, veteran center Nazem Kadri, who didn't suit up and is considered day-to-day with a lower body injury suffered at New York Wednesday, plus Bo Byram (head injury) and Ryan Murray (lower body).
The Avalanche went into the night with 122 man-games lost to injury, and only four players have played in all 24 games — Logan O'Connor, Erik Johnson, Tyson Jost and Darren Helm.
Andre Burakovsky scored twice against the Red Wings for the 15-7-2 Avs, and Cale Makar, Nathan MacKinnon, Helm, J.T. Compher and Samuel Girard also had goals.
But for the Avs, there was still something of an unsatisfactory feeling to the win.
Bednar said Kuemper allowed "a couple of bad goals" and his play continues to be somewhat uneven – despite what the stat sheet says.
A 3-0 game turned into a 3-2 game in a hurry, before the Avs got a goal from MacKinnon (it was second straight game he's scored) to get the momentum back. You keep waiting, though, for Kuemper to turn larcenous and just flat-out stone somebody. But it really hasn't happened yet.
Don't count me among those who view the Avalanche's injury issues as some sort of grassy-knoll conspiracy involving conditioning, training and medical issues.
This is a contact sport.
They are not — and I know this will be a shock — NOT the only NHL team to suffer injuries.
All that said, now we still have to sit and wait for the next injury report on Landeskog.
Colorado is at home Sunday against Florida and Tuesday against the Rangers. It'll be the Rangers' first appearance in Denver since former Avalanche forward Chris Drury took over as the Rangers' president and GM.
Terry Frei (terry@terryfrei.com) is a Denver-based author and journalist. He has been named a state's sports writer of the year seven times in peer voting — four times in Colorado and three times in Oregon. His seven books include the novels "Olympic Affair" and "The Witch's Season." Among his five non-fiction works are "Horns, Hogs, and Nixon Coming," "Third Down and a War to Go," "March 1939: Before the Madness," and "'77: Denver, the Broncos, and a Coming of Age." He also collaborated with Adrian Dater on "Save By Roy," was a long-time vice president of the Professional Hockey Writers Association and has covered the hockey Rockies, Avalanche and the NHL at-large. His web site is www.terryfrei.com and his bio is available at www.terryfrei.com/bio.html
His Colorado Hockey Now column archive can be accessed here