AVALANCHE-PREDATORS TAKEAWAYS: Another 'Guts All Over The Place' Win in Smashville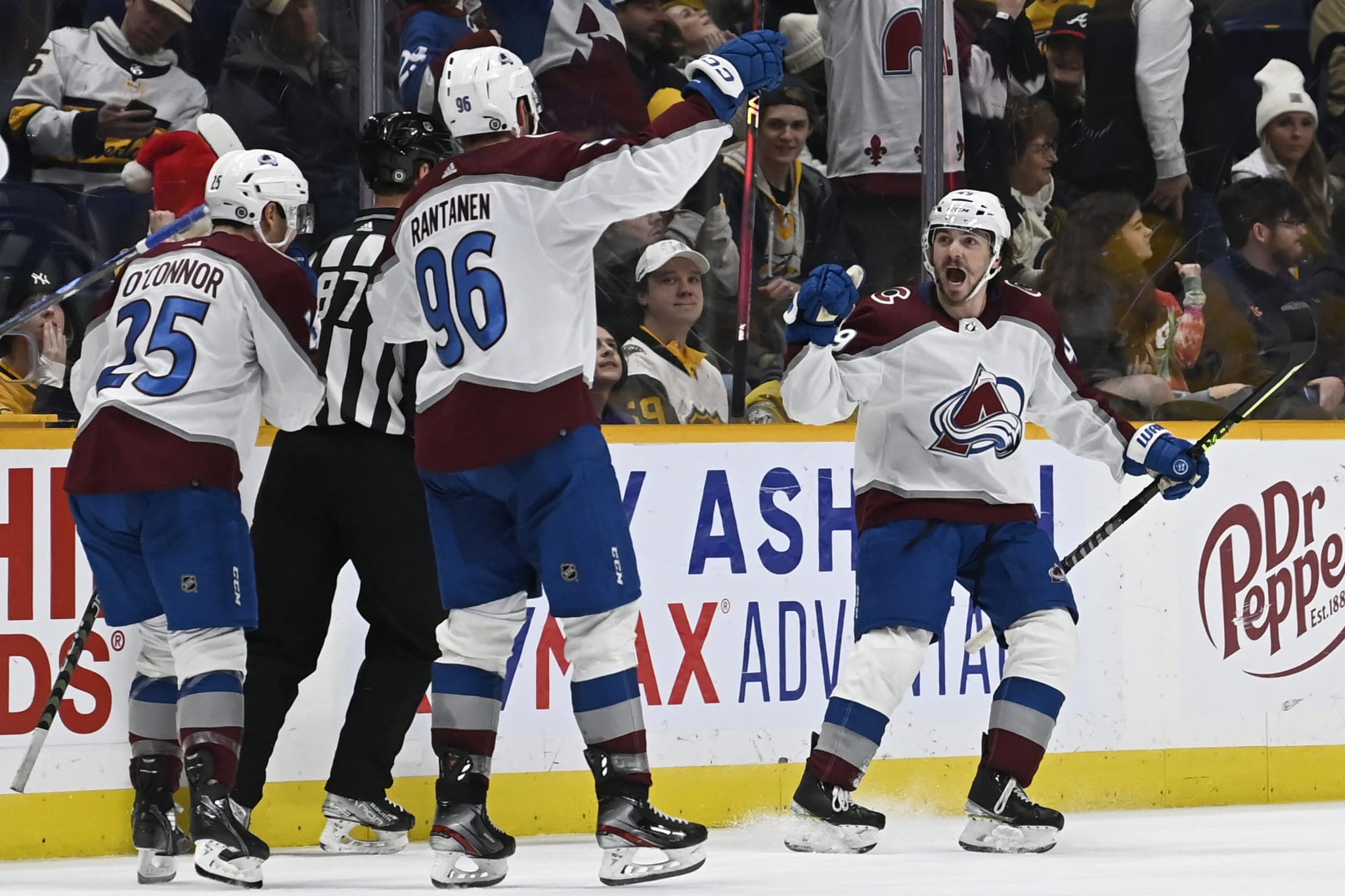 J.T. Compher's face, which looked like ground hamburger, symbolized this win. Sam Girard's bandaged nose, tousled hair and muskrat whiskers, symbolized this win. Jacob MacDonald, making good use of one of his few shifts in the game with a courageous charge to the net that drew a penalty when they were seemingly down and out, symbolized this win for the Colorado Avalanche.
This win, a 3-2 overtime victory over the Nashville Predators, symbolized the Avalanche's recent toughness in the wake of so many injuries. To quote Marc Moser, this was another "guts all over the place" win again in Nashville.
Down 2-0 after a Matt Duchene goal in the second period, with the shots to that point 21-10 in favor of Nashville, the Avalanche might have been excused for packing it in early and just getting out of Bridgestone Arena – something of a haunted house in recent holiday-game-seasons.
But the Avalanche summoned the will to fight back, and, wow, did they bring it after that? Following the Duchene goal, the Avalanche outshot the Predators 36-19 after that and won it on Girard's OT goal, set up by a rink-length rush up the ice by Evan Rodrigues, who fed a cross to Girard and a one-timer past tough Preds goalie Jusse Saros.
That was the fifth comeback victory for the Avalanche in December.
"It would have been an easy night, going into the break, to pack it in. But that's just not what our group is all about," Jared Bednar told Altitude TV afterward. "Being shorthanded, there were lots of excuses they could have made, but this was a group working hard to win hockey games. It's been a great group effort and I'm pretty proud of them to this point in the season."
I did not think much of the Avalanche's chances after a terrible first 26 minutes or so. I don't think even the most die-hard, optimistic Avs fan could have. But it was like Underdog taking his super energy pill following the Dutchy goal. They just came in wave after wave on the Preds, getting goals from Mikko Rantanen (just under the crossbar) and Compher (a tip of a Artturi Lehkonen shot with just a few minutes left) to tie.
Colorado actually started overtime with 49 more seconds left on a power play, but that might have been their worst span of the final two-plus periods. Just when it looked like it might go to a shootout, Rodrigues made a play similar to the one Rantanen made to win a game the other night.
One bad note from the final two periods: Valeri Nichushkin was lost to another lower-body injury. No update on his condition. Martin Kaut also left the game in the third and didn't return.
On his goal, Girard told Altitude TV: "That was a great play by (Rodrigues). It was a big two points for us. Points are important this time of year, so we've just got to keep going."
Said Rodrigues to the same outlet: "I think we got some momentum from our power play and then we just started rolling it over and we got better reloads from our forwards and that let our D stand up, and started creating turnovers and led to more offensive momentum."
Nichushkin left the game early in the third period with a lower-body injury and didn't return. Nichushkin had been rounding back into shape following a long layoff with a previous LBI, and now this. He has not seemed to have the same speed since coming back, and so this might be an injury that continues to linger.
These holiday games in Nashville had been cursed for the Avalanche. Last year, Bo Byram took a personal leave during the Christmas game trip and the Avalanche lost. I still remember a post-Christmas game here in 2001 when the Avalanche played probably their worst game in an otherwise championship season. Their Thanksgiving game this season was postponed by a water main break.
This one, though, had a happy ending.
SOME TAKEAWAYS
Cale Makar has 50 shots on net this month, but only one goal.
Compher suffered a badly cut face after taking a couple of high sticks, at one point leaving for some treatment in the dressing room in the third. But he came back and played inspired hockey, tying the game with that gorgeous tip.
Rantanen had 13 shots on net in the game. THIRTEEN. That's the most of any player in the NHL this season.
MacDonald only played 4:33 on the night, but he drew a big penalty in the second that helped swing the momentum his team's way.
Denis Malgin had three shots on net and was robbed on one by Saros.
The Avalanche will have the next three days off before flying to Arizona for a game on the 27th.
Erik Johnson led the Avalanche with six hits.
Makar played a game-high 30:08.
That was Girard's first career OT goal.

Colorado went beyond regulation for the third straight game, the first time the club has gone to overtime in three straight games, and won all three of those OT contests since March 10-14, 2012.