Evan's NHL Daily: Lightning In Trouble? NHL 24 Ratings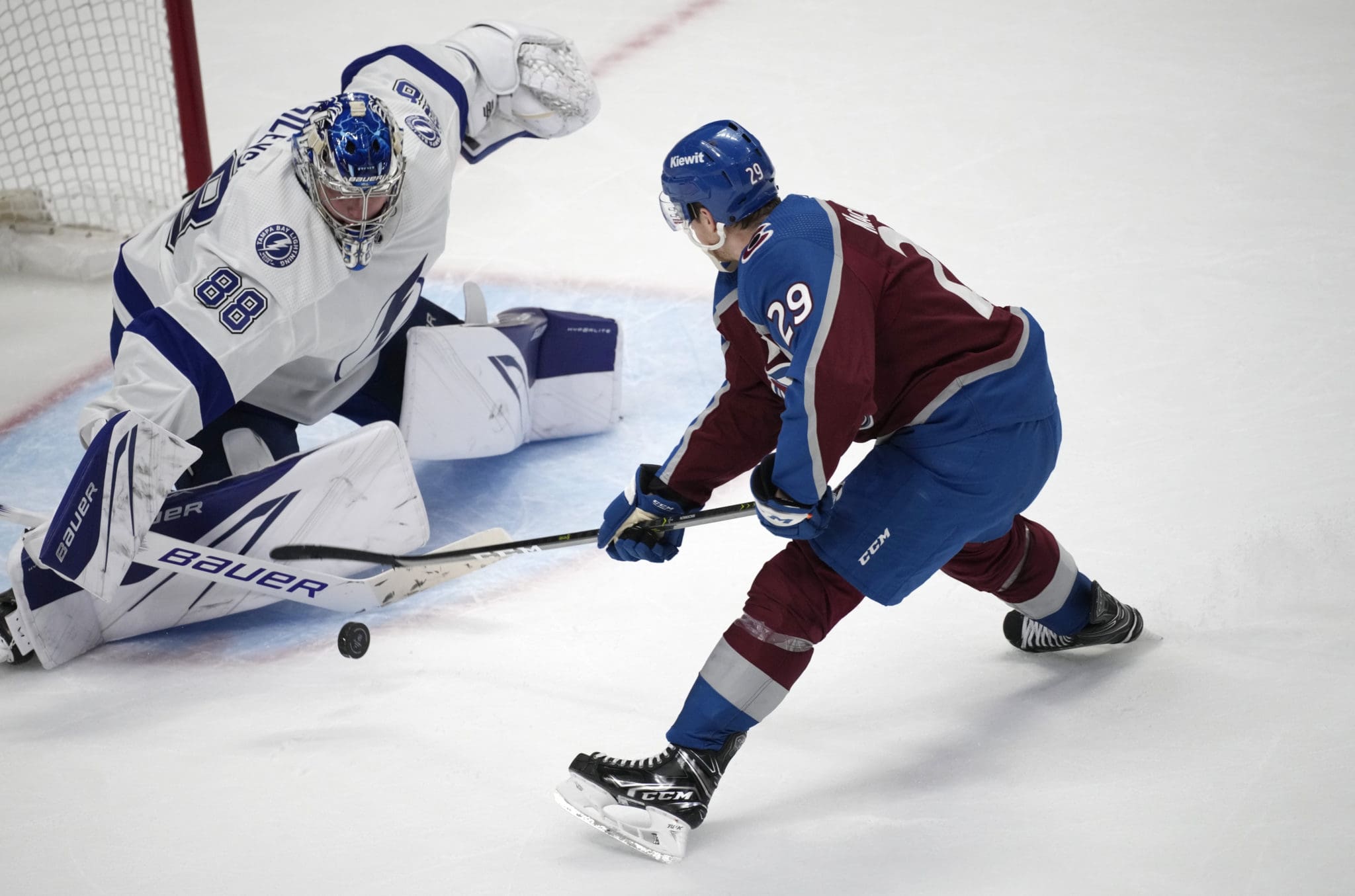 The Tampa Bay Lightning have consistently been one of the best teams in the NHL over the last several years. One big reason why is Andrei Vasilevsky, but the heavy workload he's handled since August of 2020 appears to have taken it's toll.
Do you care about NHL 24? I'm not sure anyone really does anymore, but EA Sports released the ratings for the top 50 players, and yes, the Avalanche might be the team to use in the game.
All that and more in this Friday edition of Evan's Daily.
Colorado Hockey Now
Want to get to know camp standout Ivan Ivan? Read all about him here. Unless the Avalanche make some cuts this weekend, which is entirely possible, he should get another preseason game.
Avalanche coach Jared Bednar had nice things to say about Jeremy Hanzel, who was sent back to Seattle in the WHL on Thursday.
NHL 24
If you're looking for a team to use in NHL 24 next month, look no further than the Avalanche.
With Cale Makar being the cover athlete, you knew they'd get some love, but the team sitting with three of the highest rated players in the game. Makar was rated 95 overall, highest among all defensemen. Nathan MacKinnon will also start at 95, while Mikko Rantanen is rated 93. Seems like using the Avalanche might be kind of a cheat code this year.
Is Tampa Bay In Trouble?
The one constant for the Tampa Bay Lightning over the last few years has been Andrei Vasilevsky. We're about to find out if they can live without him.
Vasilevsky, who has played 14,769 minutes since August of 2020, needed back surgery on Thursday that will keep him out for 8-10 weeks. That means he could miss around 25 games to start the season.
In the loaded Eastern Conference, this could mean trouble for the Lightning. Their backup goaltender, as of this moment, is Avalanche legend Jonas Johansson. I could see them making a move, but they're tight to the salary cap.
Is this the year they fall off a little bit? The roster is good enough to survive for a few months, but they will be tested, and in their division, they won't have much margin for error.
National Hockey Now
One of the worst trades in the NHL last summer was John Marino for Ty Smith. On Thursday, the Pittsburgh Penguins waived Smith, while Marino is one of the best defensive defensemen in the league.
The San Jose Sharks appear ready to start one of their better prospects in the AHL. The tank is on.
Connor Bedard assisted on both Chicago goals Thursday. He thinks he can do better.
Use the code "evan10" to get $10 off a year subscription to CHN+. A subscription to CHN now works on all National Hockey Now sites, thanks to our Universal subscription, which is now live.